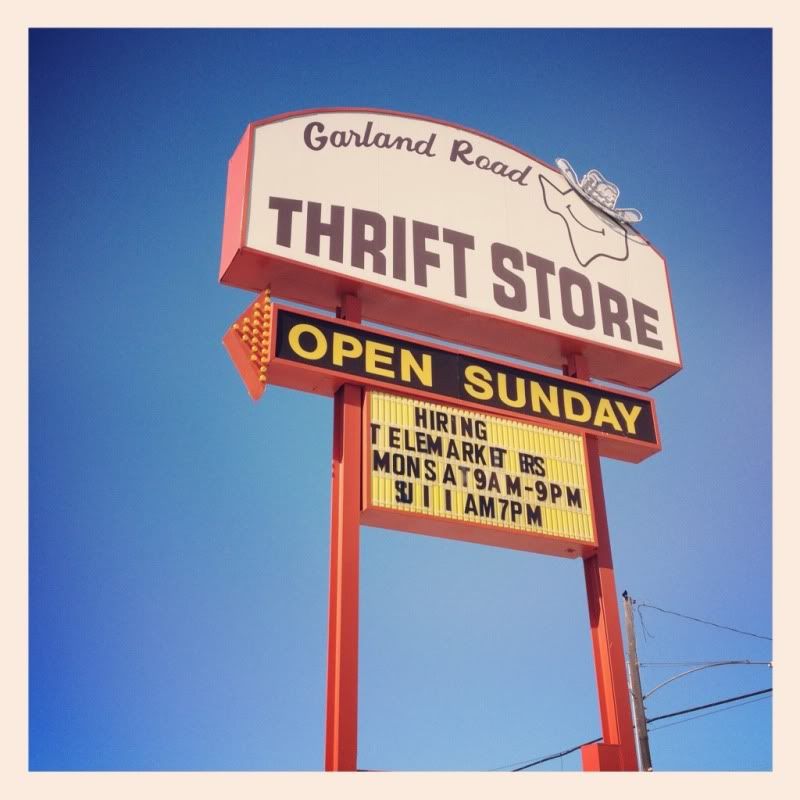 Every few weeks or so, I get a friendly email from a reader asking where I go thrifting. And I love answering them. It feels great to introduce new thrifters to my favorite stores, and even better to share regular stops in Dallas to thrifting enthusiasts.
This week, as part of my Thrifting 101 series, I decided to compile all of my most-visited stores into one helpful post. These are stores where the cashiers know my name (or, at least my red hair) - places I stop into again and again, where I find both vintage and new merchandise for myself and my family. I should note that there are
many
more thrift stores in Dallas that could be added to this list, but I'm only including stores I have been to myself.
Garland (about ten minutes from Dallas):
Garland Road Thrift: 10030 Garland Road Garland 75040 - Highly recommended among Dallas thrifters. Prices are slightly higher than Goodwill's, but you'll find new merchandise from J Crew and Loft among vintage pieces. Don't miss the evening wear section.
Texas Thrift: 1406 W Walnut Street Garland 75040 - The largest in the state!
Thrift City: 1725 S. 1st Street Garland 75040
Salvation Army 1905 S Garland Ave
Garland
,
TX
75040
Dallas:
Salvation Army: 5554 Harry Hines Blvd. Dallas 75235 - Don't miss the special room in the back. I've bought most of my Ferragamos here!
Dolly Python: 1916 North Haskell Dallas 75204 - A fantastic indoor flea market/antique mall/thrift store
Value World: 2223 S. Buckner Blvd. Dallas - Somewhat scary neighborhood, great vintage. No dressing rooms.
St. Vincent de Paul Thrift: 3052 W. Northwest Highway Dallas 75220 - Look for new Michael Kors and Fossil watches. Many Dallas socialites donate to this store.
Buffalo Exchange: 3424 Greenville Avenue Dallas 75206
Thrift World:
3046 Forest Lane
Dallas
75234 No dressing rooms.
Lulu B's Antique Mall:
2639 Main Street
Dallas
75226
Goodwill Westmoreland Avenue location: 3020 North Westmoreland Road Dallas, TX 75212
North of Dallas:
The Thrift Store Plano: 1806 K Avenue Plano 75074 - My favorite thrift store in all of Dallas. I've found Armani, Bruno Magli, Coach, Ungaro, and Victor Costa here at unbelievable prices, along with brand new merchandise from J Crew, the Gap, and Anthropologie. No dressing rooms.
Plaza Thrift: 817 North McDonald McKinney 75069 - Recommended to me by a blogger friend, this store is similar to The Thrift Store. No dressing rooms.
Goodwill Carrollton: 18230 Midway Road Carrollton 75287
Salvation Army Plano: 5900 K Avenue Plano 75074
Goodwill Alma location: 6104 Alma Drive Plano 75023
Goodwill McKinney: 2010 North Graves Street 75069
Lewisville:
Thrift World: 1358 W. Main Street Lewisville 75067
Thrift City: 1565 W. Main Street Lewisville 75067
Goodwill: 919 W. Main Street Lewisville 75067
Feel like taking a road trip? The town of Sherman is quaint, filled with antique malls, and has some excellent thrifting to boot!
Sherman:
Goodwill Texoma Parkway location: 1836 Texoma Parkway Sherman - 75090 One of the largest Goodwill locations I've ever visited!
Goodwill Lamar St. location: 2206 East Lamar Street Sherman 75090 - Situated next door to the Goodwill Last Call processing center, where you can find appliances, home decor and odds and ends at prices even lower than those at Goodwill retail locations.
Salvation Army: 426 W Houston St. Sherman 75090
Also...if you're looking for higher end vintage, you should DEFINITELY check out:
Vintage Martini: 1106 W. Main Street Carrollton 75006 Voted best vintage store in Dallas multiple years in a row. Fantastic customer service.
Decades Vintage: 2912 Maple Ave Dallas 75201