Popping up everywhere from New York to Paris, spring 2012 collections included a large, unmistakably flirty ruffle on silhouettes ranging from skirts and jackets, to dresses and blouses. This feminine note is the peplum. The February 2012 issue of
Elle
identifies the peplum as one of the four key silhouettes of spring 2012 (the others being the boxy jacket, pleats, and the maxiskirt). Long associated with 1950's ladylike fashion and 1980's excess, peplums are a fun nod to the past and can be extremely flattering to a woman's figure. Even better, they're often noticed while thrifting. So what's all the fuss about peplums? Today, we'll find out.
The
peplum
, a term dating back to the 19th century, is a short overskirt that is usually attached to a fitted jacket. However, earliest versions
were typically
not attached to a jacket, but functioned merely as an extra overskirt or flounce dropping from the waist. The modern
peplum
, as we now know it, became popular as a design in women's suiting in the 1940s. Here it took on its most recognizable form. Suit jackets were often fitted at the waist, but fabric extended beyond the waist in an overskirt. Women wore peplum-appended coats and dresses as a way to draw attention to a tiny waist and hourglass figure -- without being overtly erotic
McCall's dress pattern, c. 1940's
Sometimes the
peplum
was deliberately flared, enhancing or suggesting greater curve to the hips. In other styles, the
peplum
fit closer to the stomach and the hips, emphasizing the tight waist of the garment. A flared
peplum
with a skirt that also flared was common, as was a
peplum
with a pencil skirts.
The
peplum
fashion faded in the 1950s but came back with a vengeance in the late 1980s and early 1990s. This was part a reaction to the boxy menswear-style jackets with exaggerated shoulder pads that were popular during the mid-1980s. Most jackets with peplums in the late 1980s still had shoulder pads, but feminine curves were emphasized by a fitted waist and either a flounced or straight
peplum
, usually covering the hips and stomach.
The right peplum can accentuate boyish hips, create the illusion of a smaller waist and mask less-than-flat tummies. Peplums are flattering on many women in that they add curves on a slender form with narrow hips, and, at the same time, accommodate generous hips and disguise them while highlighting the waist.
Examples of thrifted peplums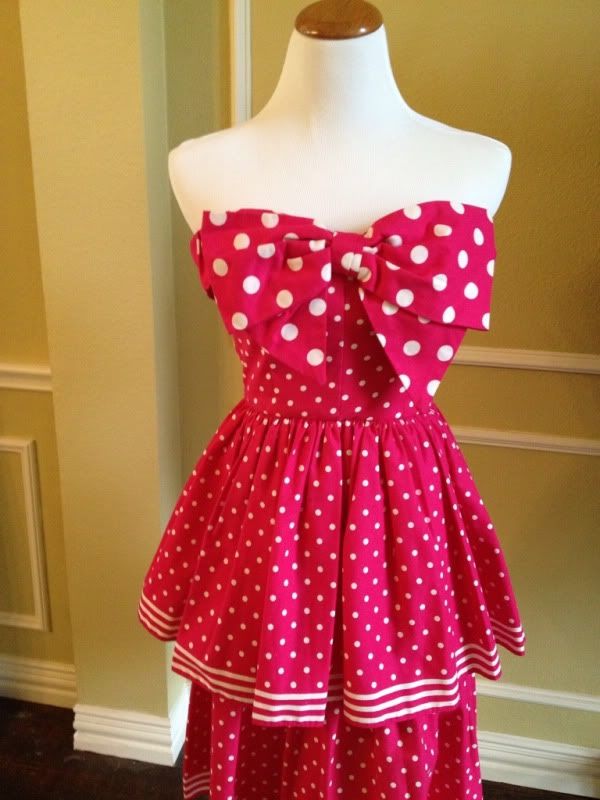 Victor Costa polka-dot dress, c. 1980's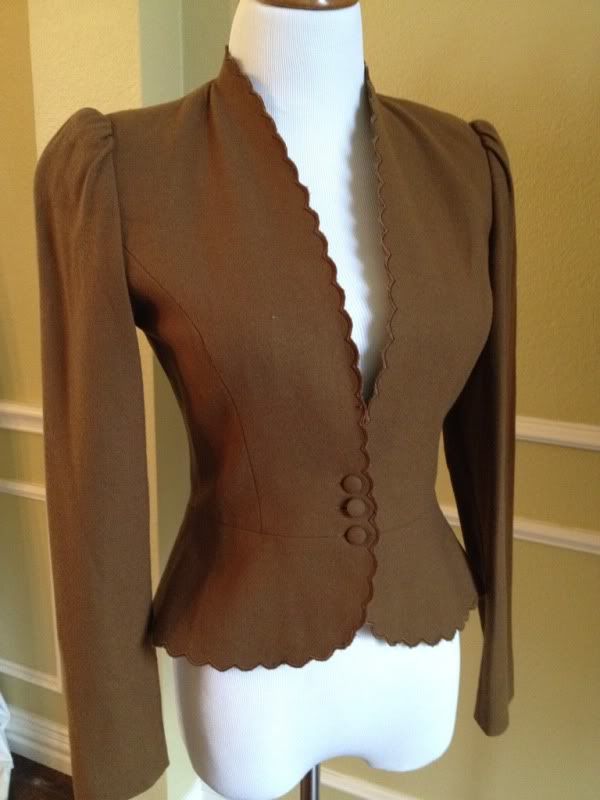 Vintage blazer, c. 1940's
When searching for peplums while thrifting, head first to the dresses, skirts, and blazers section of your favorite store. Eighties dresses with peplums are aplenty, often in loud floral or abstract prints. If a peplum silhouette makes you shy, consider a dark, monochromatic style - a black, brown, or navy blazer with a slim dark pant or pencil skirt. Peplum blouses can also be thrifted. Pairing a peplum top with cigarette pants can offset the top's girlishness and balance it's volume.
Would you wear a peplum? Have you had luck thrifting for silhouettes featuring them?