Today I'm featuring a guest post from one of my favorite bloggers, Jessica from Monster Cakes. I stumbled onto her blog months ago and it quickly became one of my favorites. Not only is Jessica stylish, personable and funny, but she's also a tremendously talented writer. Her Wednesday Smiles posts are the inspiration behind my own. I am sure you will love her as much as I do!
Hello hello new friends! My name is Jessica and I blog over at
Monster Cakes
. Something you must know about me: I'm a winter girl at heart. I loathe the summer. My vampire-esque skin burns in sunlight. It snowed on my wedding day (it was perfect). I wear SPF all year long. I own more tights and scarves than I do shirts, dresses, and skirts combined. I don't "do" iced coffee. I get depressed during the summer and feel most in my element when it rains.
Most people find this a wee bit odd, but it's my favorite thing about being me. Lately I've been trying to channel my abnormal winter powers by cheering up those around me who aren't as partial to the cold months as I am! So my summer friends, allow me to send some of my winter smiles your way.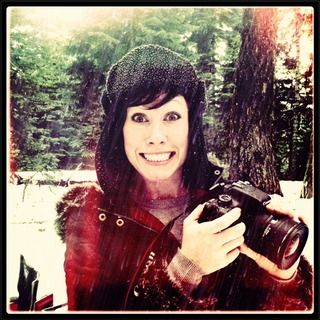 TIP:



The trick is to focus on the beauty. The positive. The daily treats that winter throws your way. Make a list! Seriously! Once you start to notice all the loveliness that winter offers, you won't have time to think about your frosted car windows, your frozen toes, and your sun-deprived skin.
My current winter love list:
+ hot coco dates with friends and loved ones
+ Starbucks holiday cups
+ falling asleep to the sound of rain against the window
+ watching puppies play in the snow

+ justifying pajamas at 5PM because it's already dark
+ feeding my belly with hearty soups and stews
+ enjoying extra doses of holiday treats w/out guilt

+ Sees candy's seasonal flavored truffles
+ witnessing the beauty that is foggy mornings and snow capped mountains
+ the way the rain puts me in a writing mood and gets my creative juices flowing
+ watching the sun glitter off grass blanketed with frost

+ feeling the most Oregonian in my winter staple: plaid button ups
+ listening to Christmas music... between the months of October and February
+
hand warmers
that rock your world
+ utilizing my absolute favorite accessory: scarves
+ busting out my darker shades of nail polish

+ pumpkin spice candles
+ not shaving my legs ever as often
+ stealing husband's socks because they are always warmer
+ roasting mellows in fireplaces

+ cutting out snowflakes by hand
+ serene winter playlists (see my recent fave
here
)
+ getting up a little earlier to enjoy my coffee while I watch the sun come up



So friends. What's on your list?



xo