On Sundays I review the past week and
I Smile
. I share these moments with you.
Approximately 90% of my clothes are from the following locations: thrift stores, eBay, or off-price retailers like TJ Maxx and Marshalls. But every now and then, I crave a little dose of luxury.

So I go window shopping.

And here in Dallas, there are few better places to do that than Highland Park Village.
This little shopping district is home to Chanel, Jimmy Choo, Tory Burch, Scoop, Harry Winston, and Ralph Lauren, and a slew of other super high-end boutiques. At Highland Park Village, it's not unusual to observe one (or five) Bentleys angling for a parking spot, and encounter some of the most obnoxious residents of Dallas you've ever brushed shoulders with. For example, I held the door for a group of people exiting Starbucks, and not one of them said thank you.

I might as well have been invisible.

So my fellow shoppers might not have made me smile, but the clothes and accessories surely did.
Thankfully, there's always the Salvation Army to bring me down to earth. On Wednesday I excavated vintage Diane Von Furstenberg and Ella Moss, plus Madewell, J Crew and Anthropologie (not pictured.) When I tweeted this pic, a number of y'all proclaimed that I have

magical thrifting powers

. Not so. I just go thrifting a lot - four days a week - and I don't get discouraged. So if you haven't had much success in thrift stores, try again and be persistent. You too can have magical powers as well.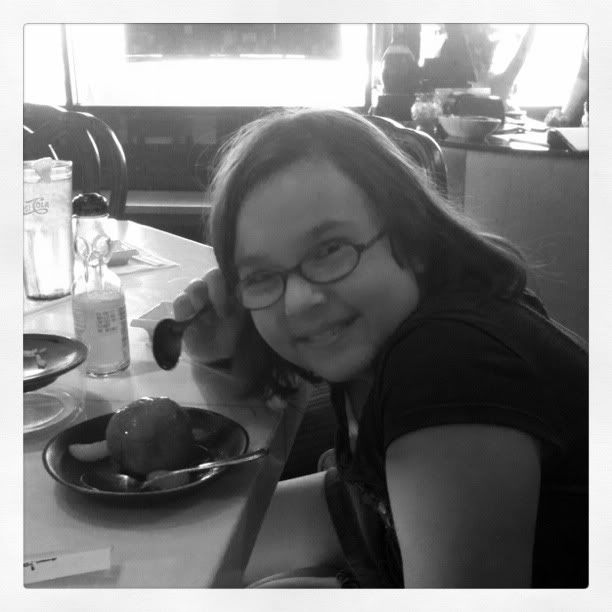 My daughter's birthday is on Tuesday, the same day I'm flying to NYC for the Independent Fashion Bloggers Conference. So yesterday I took her out for a little pre-birthday celebration. We went for sushi, and she had

fried green tea ice cream

for dessert, which she proclaimed delirious (but made me a little nauseous. It was just too much.)
Then I took her for her very first pedicure. She was extremely insistent that I post these photos in today's smiles, because she was smiling a lot and some how believes that having a blog

makes me very famous

and will therefore make her famous as well. Who am I to argue?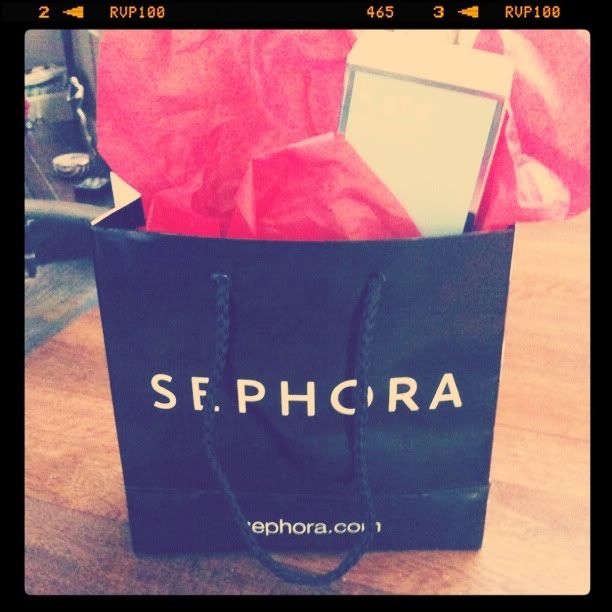 Just because it was her birthday doesn't mean I couldn't buy myself a little treat or two. I've been working off a teeny tiny sample of Urban Decay's eyeshadow primer potion for months, and decided to give in a get the full-size tube. This stuff is amazeballs. I am not affiliated with, related to, or otherwise compensated by Urban Decay, so you know I speak the truth. You eye makeup will. not. budge. Get it.

Now it's your turn: What are some things that made you smile this week? Grab my button (created by Kate of Divergent Musings - HUGE THANKS to Kate!) and blog about your Sunday smiles; share your weekly smiles in the comments; or smile just because it makes you feels good.

While I'm wiping green tea ice cream from my daughter's face, catch up on everything from Dress With Courage this week:
One big blogger acomplishment to share this week:
My post regarding media influence on body image was featured on the blog The Beheld. If you've been looking for an intelligent voice that explores issues regarding body image, and the concepts behind beauty. It is eloquently written and, in my opinion, one of the best blogs out there. I've been reading this blog forever and am truly honored that one of my posts was featured.
I'm also a finalist in the CBS DFW Most Valuable Blogger Awards. You can vote once a day, every day until September 9th. Please help me win and vote here!
As always, thank you for supporting me by following my blog, continuing to leave thoughtful and introspective comments, and dropping by every day. I am so appreciative that you are here.
If you're visiting my blog for the first time, please think about following me through Google Friend Connect, tweeting with me on Twitter (@dresscourage), and following me through Bloglovin'. I also have a new Facebook page -
come say hi!