Last Tuesday morning I woke eager over the coming of Missoni for Target, The Most Important Collaboration Of All Time. I have always had a soft spot for Missoni. I love their colorful, cheery knits, and their unique geometric patterns. However, there was absolutely zero chance I would ever be able to afford any pieces from Missoni. Until now.

There was a small line outside the Target I visited. I heard that other stores had lines up to 200 people deep. But up here in the 'burbs, it was quiet. Nonetheless, there was a bit of a stampede once we got into the store. People were running down the aisles, grabbing everything they could, with no thought as to whether it was actually their size or not. I managed to snag the few things I was looking for - cardigans, two storage boxes, an infinity scarf, tights and socks.
The clothes were soft, substantially knit, and considerably well-made for a Target line. I was impressed with the construction - seams were tightly stitched. However, I found the shoes disappointing - the flats seemed cheap and shoddy, and the application of the print on the rain boots looked ready to peel right off.
By the time I left, all of the clothes and accessories were gone. Some of the housewares remained, though.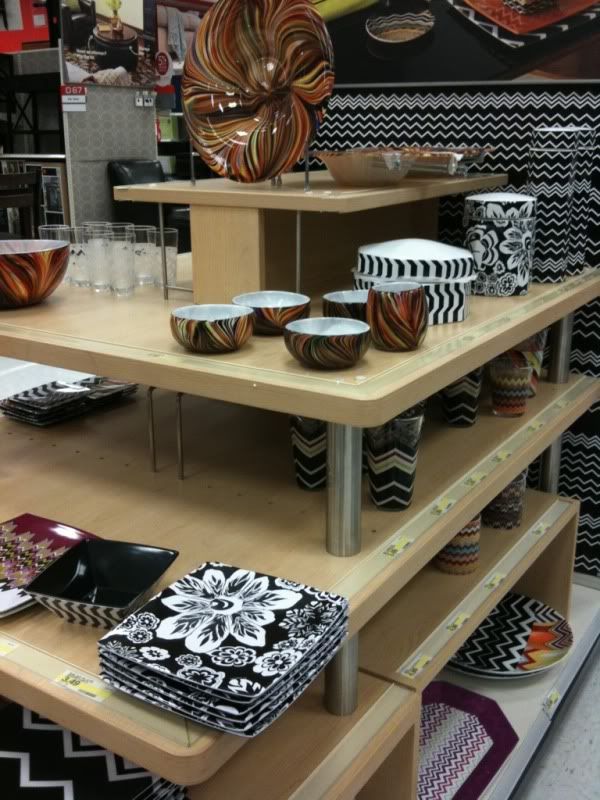 My gracious husband was traveling back to Dallas from Tulsa, and he stopped at two Targets on his way down and snagged some hard to find items for a giveaway for YOU! All of these items are sold out and impossible to find, unless you're willing to shell out serious cash on eBay, where prices on Missoni For Target pieces are up to 10 times their original price.
In this giveaway, you'll win accessories to get you ready for the fall:
A pair of gloves in a size M/L (which will fit any adult woman)

A beenie in size M/L (again, will fit everyone)

and a scarf!
To win, simply do the following:
Follow me on Google Friend Connect;

and leave a comment with your email address (so I can contact you if you've won.)
For extra entries:
Follow me on Twitter;

add my blog to your blog roll;

and tweet the following about the giveaway: I just entered @dresscourage Missoni for Target giveaway at http://dresswithcourage-elissa.blogspot.com/2011/09/giveaway-i-picked-up-some-missoni-for.html You can win too!
That's it! Giveaway will end on October 7th! Good luck and thanks for entering!
This giveaway is not affiliated with or provided by Target. Target has no idea who I am. I could disappear forever and Target would never know. I have no relationship with them aside from a slight obsession with their skinny ribbed white tanks.