On Sundays I review the past week and
I Smile.
I share these moments with you.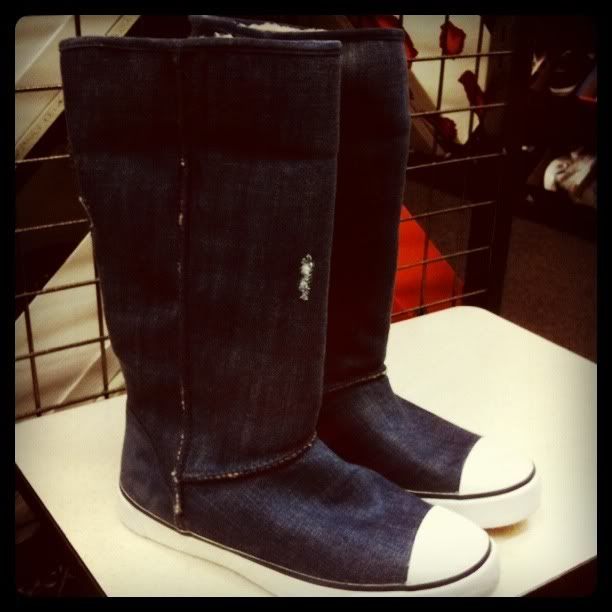 This week, in preparation for my trip to NYC for the Independent Fashion Bloggers conference, I did some shopping. I feel all kinds of pressure to look my best and hold my own against bloggers I consider both style role models and all-together fabulous people, so I was compelled to bum rush stores in a frantic search for things that would make me look chic while masking the fact that I was
trying desperately
to look chic.
Somewhat disappointingly, I found plenty of things that kept my money firmly in my wallet. Case above:
denim distressed Uggs with a sneaker-like front cap.
Now, I like Uggs as much as the next girl. But I can't imagine sauntering into some sophisticated glamorous dimly lit restaurant with these puppies on my feet.
There were also these fetching front-pleated peg-legged Southwestern-inspired jeans from Marc Jacobs. I do not believe I have ever laid eyes on more man-repelling garments in my life.
Seriously, Mr. Jacobs?
Apparently we all need to look like an 80's mom on her way to drop her kids off at the bowling alley while guzzling Tab. I SWEAR I have seen the vintage version of these jeans in the Salvation Army for about $6. Price on the tags above? $228. My head hurts.
Then it was off to Marshalls for shoes. I am decidedly not a shoe person, but I practically swooned at the offerings from Marshalls this week. Between sumptuous leather Frye stacked sole sandals, patent leather Jessica Simpson pumps, Guess leopard print platforms and
Coach ankle boots
, I was overcome. I have posts planned this week regarding both my Marshalls trip AND lukewarm relationship with shoes, so stay tuned.
Feeling the urge for vintage, I impulsively decided to make a drive out to Waco to a shop I'd heard about but hadn't had the chance to visit. The Style Station is a little shack crammed full of vintage Levis, 50's dresses, cowboy boots, western shirts, motorcycle jackets, tooled leather handbags, random paraphernalia, seventies maxi dresses, band jackets, and polyester wide-leg pants. The "dressing room" was a corner of the store blocked by a folding mirror, and stuff hung
everywhere
.
Adding to its charm, the shop is owned by a burned-out ex-hippie with an unmeasurable amount of pent-up conversation stored in him. He was, as my grandfather used to say, a piece of work. With the slightest bit of encouragement he embarked on a punctuation-free soliloquy regarding Middle Eastern politics and the right wing leanings of our government system and the falsehood that is Christianity. I wandered around the store while he just yammered away about who knows what. If you ever make the drive out of Dallas to Austin or other points south on I35, you MUST make a stop at this place. Just bring your ear plugs.
So what did I buy?
This beaten-up, weathered leather satchel from the seventies. It took a little bit of cleaning to remove 40 years of dirt and grime, but it's gorgeous and full of character. And was totally worth the hour and a half drive.
Now it's your turn: What are some things that made you smile this week?
Grab my button
(created by Kate of
Divergent Musings
- HUGE THANKS to Kate!) and blog about your Sunday smiles; share your weekly smiles in the comments; or smile just because it makes you feels good.
While I'm mentally packing for my NYC trip, catch up on everything from Dress With Courage this week:
I'm also a finalist in the CBS DFW Most Valuable Blogger Awards. You can vote once a day, every day until September 9th. Please help me win and
vote here
!
As always, thank you for supporting me by following my blog, continuing to leave thoughtful and introspective comments, and dropping by every day.
I am so appreciative that you are here.





If you're visiting my blog for the first time, please think about following me through Google Friend Connect, tweeting with me on Twitter, and following me through Bloglovin'.

I also have a

new Facebook page

- come say hi!