This week Fashion Beauty Friend Friday is focusing on shoes. I must admit that I don't consider myself a shoe person (though I own enough to make my husband roll his eyes when I come home with a new pair.) Typically, I prefer to spend my money on a vintage sequined top or thrifted handbag. However, most statistics on the shopping habits of women conclude that women ages 13-16 may own about 15 pair of shoes including sneakers; older woman aged 16-21 own 25-40 pairs; and woman ages 25-50 own anywhere from 40-60 pair of shoes.
Glamour.com
wrote recently about this here:
http://www.glamour.com/fashion/b...
. Original study was conducted by
gocompare.com
, who surveyed 3,000 women. Here are some interesting points from the study:
The Friend Friday group by Modly Chic is a way for fashion bloggers to share more about themselves and join a friendly community of bloggers. Join the fun by checking out the Fashion Beauty Friend Friday Google Group. And don't forget to check out Modly Chic - it's such a great blog.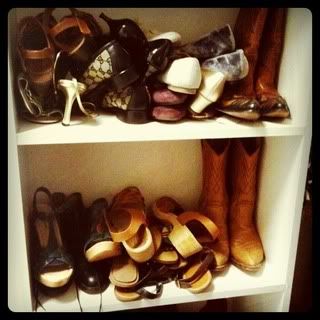 A bit of my shoes collection
1.What is your go-to pair of shoes?
Answering this question is like asking me to chose which one of my three kids I love the most. It's impossible. And it depends on the season. In fall and winter I live in my tall boots. Two pairs are vintage and I fdound them while thrifting; I also have a pair of vintage cowboy boots I thrifted for $8 that I adore. They're well-constructed, soft and broken in. My brown Frye Heath boots are probably my favorite - I bought them on eBay for less than $100 and they're versatile, comfortable, and perfectly worn in. In spring I like peep-toe wedges, and in summer I love my high heeled strappy clogs. They're the only heels I can wear without writhing in pain.
2. What goes into your shoe buying decisions?
Comfort is my number one priority when buying a pair of shoes. If they're not comfortable I won't want to wear them, and my purchase will be a total waste of money. I also look for leather shoes - they hold up much better than canvas or faux leather - and a padded insole.

3. The majority of the shoes in your closet are what color?

Most of my shoes are in neutral colors - black or tan leather, gold and bronze. This spring I really would like to find some colorful sandals, especially in yellow. I see so many bloggers wearing rightly colored sandals and wedges and they always look great!
4. When it comes to design shoes what are your favorite brands and why?

Another impossible question! I really love my Frye boots and shoes. They're exceptionally well-made and last forever. I have a pair of Frye cowboy boots that I purchased almost ten years ago, and they still look amazing. I also love my Miz Mooz wedges, my H&M clogs, my Lucky Brand platform sandals, my 6x6 platform booties, and my entire collection of vintage ballet flats (which I rarely wear, because I'm afraid of ruining them!)
5. If price wasn't an issue, you'd own which shoe?
Oh lord. Honestly, suspect most will answer this question with a description of some astronomically-priced Christian Louboutain or Manolo stiletto. But I just can't tolerate wearing high heels. I think they're gorgeous, but just not practical for me. However, I would love to own these Jeffrey Campbell
red t-strap platform sandals.
OR these
Frye oxfords
. OR these
Valentino bow espadrilles
.
What are your favorite shoe brands? Are you planning to buy anything new for spring and summer? I would love to know!