Yesterday, emboldened by the suddenly warm weather, I decided embark on an epic quest to clean out my closet. One of the things I insisted on when we relocated here to Dallas was a walk-in closet in the master bedroom. As a former New Yorker raised in teeny tiny apartments, I've spent the majority of my post-adolescent life daydreaming of the Perfect Closet. As a result, my closet fantasies have grown increasingly intricate for a space some might consider insignificant (and by some, I mean men. Men whose footwear is limited to a pair of Chucks and scuffed black dress shoes. You know those men.)
My Perfect Closet is a spacious, airy room, flooded by daylight from floor-to-ceiling windows and antique chandeliers. Anchored by a pink quilted fainting couch, it features custom-designed closet rods designed to bear the considerable weight of maxi skirts, dresses, jeans and blazers. Perfect Closet also includes a generous array of padded, compartmentalized drawers to hold jewelry, lingerie, tights and socks. Rows and rows of shelves are dedicated to shoes, organized by color, heel height, and brand. Floor-length mirrors make it possible for me to know exactly what I look like without relying on my husband's opinion (which is always the same. "Uh, you look great...I mean hot...I mean thin. Yeah, that's it.") Perfect Closet comes fully equipped with an Italian seamstress and Italian-English interpreter for said seamstress. It would always be immaculate; it would always be organized; and it would always smell like clean laundry, suede, and Gucci Envy.

Basically, imagine Mariah Carey's closet, but with less glitter and butterflies.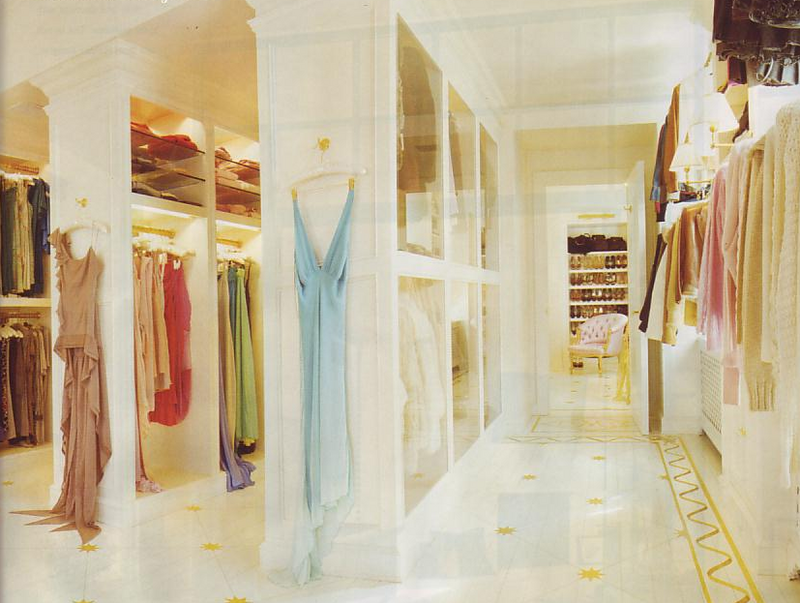 Dream lover, come rescue me.
Naturally, the reality of my closet doesn't quite meet with the fantasy. Instead of custom-made shoe cabinets and padded drawers, it features haphazard mounds of rejected potential outfits, belts intertwined in a sexually suggestive manner, and twisted wayward hangers. However, it's a walk-in, and includes plenty of room for my ever-growing collection of vintage clothes and whatever intriguing crap I haul home from the Goodwill.

While struggling through Project Closet Purge yesterday, I couldn't help but notice that the size of my garments varied. Widely. One shirt was a XS; two skirts, one a size four and one an 8, shared a hanger; another top was a M. I recently learned that the majority of women have a minimum of three sizes in their wardrobe. What gives? I have a number of theories:


Weight fluctuations: We all have things we can't wear because they're too big or too small. Many of us own articles of clothing in "aspirational sizes" - items in smaller sizes we either used to wear, or own merely to emotionally flagellate ourselves into eating less and exercising more. I'm always reluctant to get rid of items that don't fit. It makes sense: I spent good money them! And I might even love that blouse/dress/pair of jeans! Having an emotional attachment to an item certainly makes it more challenging to part with. Furthermore, if your weight yo-yo's, there's a little voice in the back of your head whispering keep it, you might wear it again. And there's really no way to know if this voice is right.
Complex Proportions: Quite often (and this will simply shock you) our bodies refuse to conform to one size. Occasionally, and stop me if you've heard this, your top half and bottom half are different sizes. Large-busted and small-hipped; small on top and larger bottom; tiny waist and fuller hips; broad-shouldered and petite. Most clothes rarely account for such wide variations. Traditional sizing revolves around six different body types: round, inverted triangle, hourglass, pear, diamond, and straight. However, today's fashion industry has replaced the six different categories with two terms, "bottom-" or "top" heavy, with multiple combinations between each. A Google search regarding dressing for your body type revealed over eleven million pages. It's no wonder our closets hold so many sizes.
Standardized Sizing Is A Joke: This is ridiculous and not discussed enough. If you wear a Small T-shirt from the Gap, you'll need a Medium at Abercrombie & Fitch. If you wear a size two at Loft, you'll need a four or six at Urban Outfitters. Occasionally, even garments sold at the same store won't have congruent sizing. Take Target and Old Navy. I've bought the same style pants in different colors, all in the same size. One pair was too big, one too small, and one just right. There is no reasonable explanation for this. Nothing causes more cognitive dissonance for me than to know that my beloved faux leather bomber jacket from Target is an XL while the T-shirt I'm wearing under it is a small.
Vanity Sizing:

According to Wikipedia, vanity sizing, also known as size inflation, is used to refer to the phenomenon of ready-to-wear clothing of the same nominal size becoming larger over time. So pants you purchase in stores today might be two to three sizes smaller than those you purchased five years ago, despite no change to your weight. Vanity sizing, as its name suggests, is designed to satisfy buyers' wishes to appear thin and feel better about themselves. However, in the end, you have no clue what size you really are.
Of course, it doesn't
matter
how many sizes you have. But I'm curious - have you struggled with sizing issues? Do emotional attachments make it difficult for you to get rid of things? Do you purchase clothes in aspirational sizes as a weight loss or fitness goal? What do you think about vanity sizing? Has it affected how you shop? And...just for fun...what does your dream closet look like?
Thrifted Target blazer; thrifted Romeo and Juliet Couture tee; thrifted vintage Ann Taylor silk skirt; Gap Outlet tights; Urban Outfitters 6x6 booties; Gap crossbody bag; Forever 21 bracelet; Betsey Johnson watch