On Saturday I had an an invitation from Tina of T Minus T Plus to attend the Progressive Fashion Blogger Event at The Shops at Park Lane in Dallas. The social media director of Park Lane, Nichole Luna, hosted the event, and our group of twelve had a fantastic time meeting store managers, getting swag, and enjoying lunch, all courtesy of the shops. In addition to 600,000 square feet of great shopping and restaurants, Park Lane offers outdoor jazz concerts, events for children and moms, and is located directly across from HWY 75 and Northpark Mall, an upscale shopping destination that entertains over 21 million visitors a year.

We started out at Whole Foods, which immediately made me regret not eating breakfast that morning. Everything looked incredibly fresh. The Park Lane Whole Foods is a flagship store, and the largest in North Texas. It was impeccably clean, modern, and easy to navigate. We drank free samples of kombucha tea (which smelled kind of like mushrooms but tasted surprisingly fruity) and had a full tour of the store.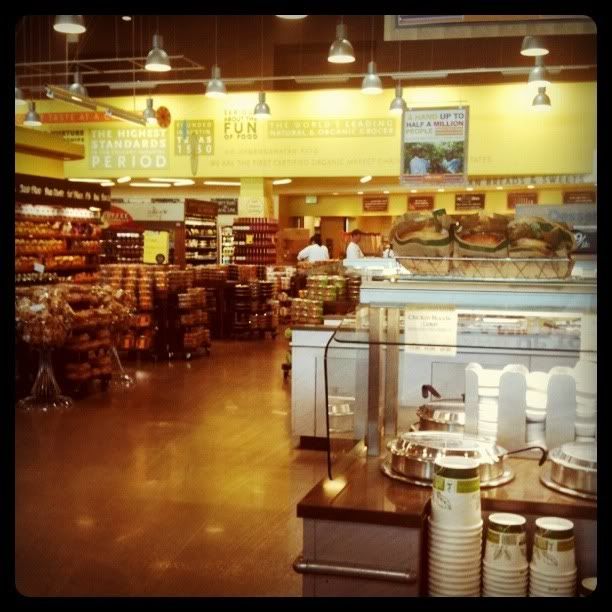 Whole Foods believes in environmentally respectful and conscious
eating, and the store reflected the clean lifestyle they encourage. One of my favorite things was a vintage cigarette machine they had refurbished into a dispenser for crafts by local artists. For $5, you could purchase an original piece of artwork or jewelry from a machine that looked like a piece of art in itself. I was blown away.
After Whole Foods we walked over to Ulta. The front of the store was devoted to prestige brands, such as Elizabeth Arden, Neostrata and Borghese, as well as top-tier skin care lines, such as Murad. We also checked out the Benefit cosmetics and brow bar and got a chance to play around with some of the cosmetics, including their popular Benetint. The Park Lane Ulta also has a full service salon, including an on-staff brow specialist. Ulta gifted us with a ton of samples to try, including a full size Stila lipgloss. That was awesome.
Then it was onto Nordstrom Rack, where I spied 39425 pairs of Frye boots (on super sale!) that I lusted for, racks of designer jeans, spring dresses in a huge range of styles and sizes, and a display of Betsey Johnson watches and earrings so glorious I almost cried. Almost. My style guru/friend Juanette of Fashion Nette-Work won a Marc Jacobs watch in a giveaway just for our group. I actually squealed out loud when she won. It was that good.
Once we finished touring the store, we stopped by Gordon Biersch for lunch provided by Park Lane. Despite a gusty wind, it was a really pretty day, and we ate outside on the patio. I had a hummus salad with chicken and fresh pita bread that was divine, though I honestly had trouble choosing what to order - the menu was huge, and everything sounded good. For dessert we were treated to frozen yogurt at Fresh Berry. Unfortunately, I was too stuffed from lunch to have any, but it looked super delicious.
Frozen yogurt finished, we walked across the street for glasses of champagne and a tour at
Baileys Prime Plus
. Between the sexy bar, glamorous private dining rooms, and glass-walled wine cellar, it felt very chic. It was the perfect place to take a date or host a group event.
Then it was onto the Aveda Store and Institute. Containing a full service spa, hair salon and cosmetology school, the Institute was huge, and smelled invitingly of Aveda's signature mint and rosemary scent. We toured the facility and I dreamed of a time when I could spend a day there indulging in a massage, facial, and mani/pedi. Aveda generously gifted all of us with pedicure in the salon, and I'm really looking forward to going back.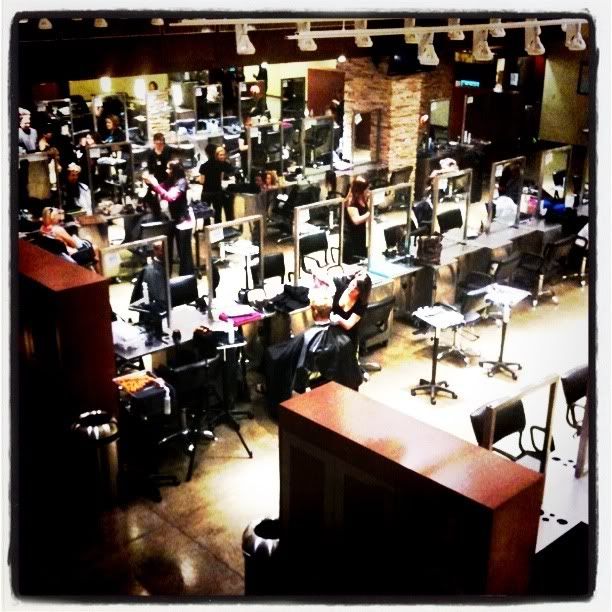 A HUGE thank you to Tina and Park Lane Dallas for hosting such a wonderful event. I went home with bags of samples, coupons and gifts, a group of new blogs I can't wait to catch up on, and a mental list of things I want to buy for spring. Oh boy. And tremendous thanks to Ivonne and Katie for the pics here. Somehow I accidentally deleted mine while uploading. Yes, I am an idiot.
Attendees: From top row, left to right:
Here's what I wore:
The Spice Rack vintage sequin jacket; thrifted vintage silk tank; vintage thrifted silk skirt; vintage thrifted belt; Forever 21 oxfords; vintage thrifted bag; Forever 21 pyramid bracelet

;

Forever 21 hoops
Forever 21 pyramid bracelet; Betsey Johnson watch; heirloom diamond tennis bracelet; James Avery sterling silver ring