Roseanne Morrison, who predicts fashion trends for The Doneger Group, says spring fashion will be
inspired
by True Grit. Morrison confesses that she isn't quite sure how it'll "play out, whether it's with gingham or denim," but agreed that the predominant look will be worn-in denim and florals, fringe, and gingham prints, with a distinctively western touch. Talking about the movie's influence, Morisson said: "The whole western, open-range denim story has legs. I think it's going to be impactful to the consumer, because they're still into a very strong casual lifestyle business. And(...)I think it resonates with the consumer."

I'll admit that I haven't seen True Grit. I'm not a huge fan of westerns, though I've managed to catch a few on AMC during commercial breaks of The Real Housewives of Whatever City They're Filming In. Westerns feature sideburned, dusty, leather-faced men who ride around on horses, get into gunfights at the saloon, and lustily kiss worn-out womenfolk. They're tough talking and broad shouldered, the kind of men who build their own furniture and drink whiskey and skin deer with bowie knives. Sometimes they're nomadic wanders, usually gunfighters or cowboys fighting to defend their own innate sense of honor. And they always manage to look devastatingly handsome in snap button shirts and buckskins.

But it is the women in Westerns that are the unsung fashion heroes. They are earnest and stoic in full skirts, faded florals, and lace-up boots; or rough and tumble in beat-up pants, worn down boots and long braids. Such is the look of the female lead of True Grit, Hallie Steinfeld. In the trailers, she glowers at her male counterparts in wide brimmed hats and canvas coats. Reviewers describe her character as tough, capable, and sometimes deadly, rivaling any man in the ability to shoot, ride, play cards and talk trash.

But enough about that. Yes to gingham! And prairie dresses! And plaid! And denim! Haters gonna hate, but I am all over that stuff. I scour thrift stores for old Gunne Sax dresses. Cowboy boots make me squeal. Grant me with silver belt buckles and tooled leather bags and I'll be a very happy girl. I felt like I was channeling some True Grit spirit in today's outfit. Hand me a six shooter and double of whiskey, and I'd fit in just fine. We'll overlook the tattoos for now.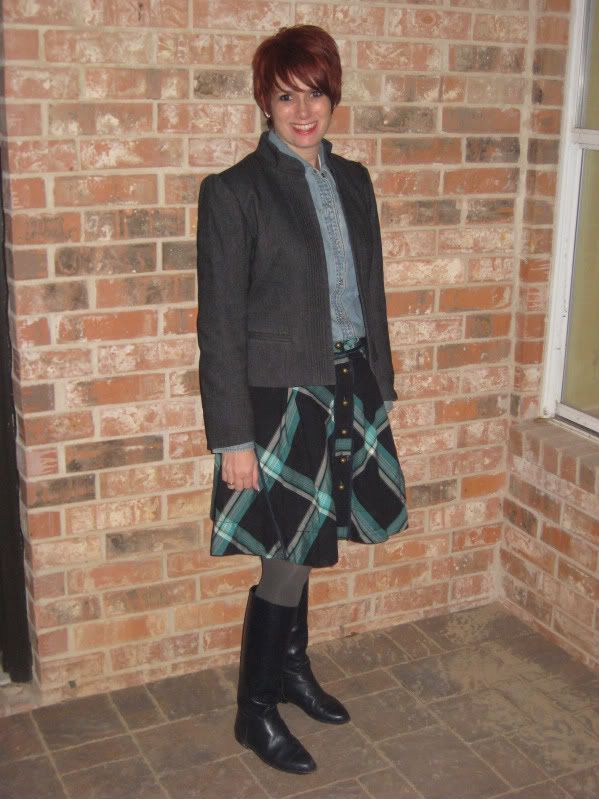 Vintage thrifted blazer; Anthropologie skirt; thrifted Gap denim shirt; Gap tights; vintage thrifted boots