I'm a jeans and flats kind of girl. My closet is jammed with a kind of gross display of denim - flared leg, skinny, bootcut
,
jeggings...even wide leg (which aren't typically flattering for a short girl like myself, but they're so comfortable I can't resist.) When I go shopping, I almost always begin by making a beeline to the jeans. Doesn't matter if my want list even has jeans on it.
Now that the weather has finally cooled off here in Texas, I've become inspired to break out my tall boots and tights and wea
r them with the few dresses I have crammed in the back of my closet.
Denim jacket: Forever 21. Dress: Free People. White tee shirt: Some unknown label, TJ Maxx. Tights: Hue Ultra Matte. Boots: Frye. Earrings: Lucky Brand.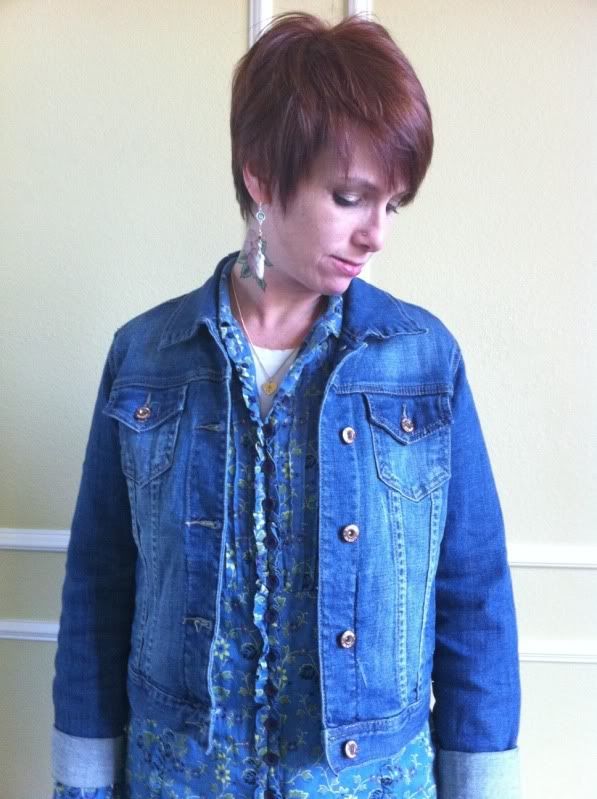 I love these boots! With a one-inch heel and square toe, they're super comfortable, and the exposed side zip makes them easy to pull on.


Can you believe that I've owned this dress for five years and never worn it before today? I get so stuck in my jeans that it often doesn't even occur to me to wear anything else. This outfit has really inspired me to wear more dresses and layer them up for winter. I love how the short jacket broke up the boxiness of the dress and gave me a more defined waist. The ruffled sleeves peeking out are sweet but not in too cutsey of a way. And I'll take any excuse to wear these swinging turquiose and bone earrings.