Hi! I'm Elissa.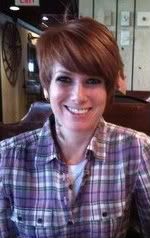 I am a married 36 year-old mom to three outgoing, funny, voracious children - a daughter and identical twin boys. My family and I live McKinney, Texas, though we're originally from New York City. We have also lived in Long Island and Brooklyn, New York; Alpharetta, Georgia; Murphy, Texas; and Des Moines, Iowa. Hopefully we're here in McKinney to stay!
Me and the kiddos


Growing up in New York City gave me an early education in personal style. I attended Laguardia High School for the Performing Arts in Manhattan, where the hallways often resembled runways. While working with a typical tight student budget, I learned how to mix thrift, discount, and high-end store pieces (usually gifted or passed down from family) to create a unique look.
I started this personal style blog because after following many other fashion blogs for awhile, I realized that most of them didn't reach to an audience beyond twenty-somethings. I believe that it is possible to be age-appropriately, stylish, and true to who you are when getting dressed. I try to shake off the should's as much as possible when getting chosing what to wear. I'm far more concerned with making myself happy than impressing anyone else. This is what I believe dressing courageously is all about.
I try to keep my style affordable, practical, trendy and (above all else) comfortable. I want to illustrate that you don't need a ton of money or a closet overfilled with clothes to be fashionable.
I believe in good food, red wine, pretty clothes, a juicy novel, the love of friends and family, great music, fashion magazines, and the wonder of a great pair of jeans.
Want to know more? You can email me at dresswithcourage@gmail.com.